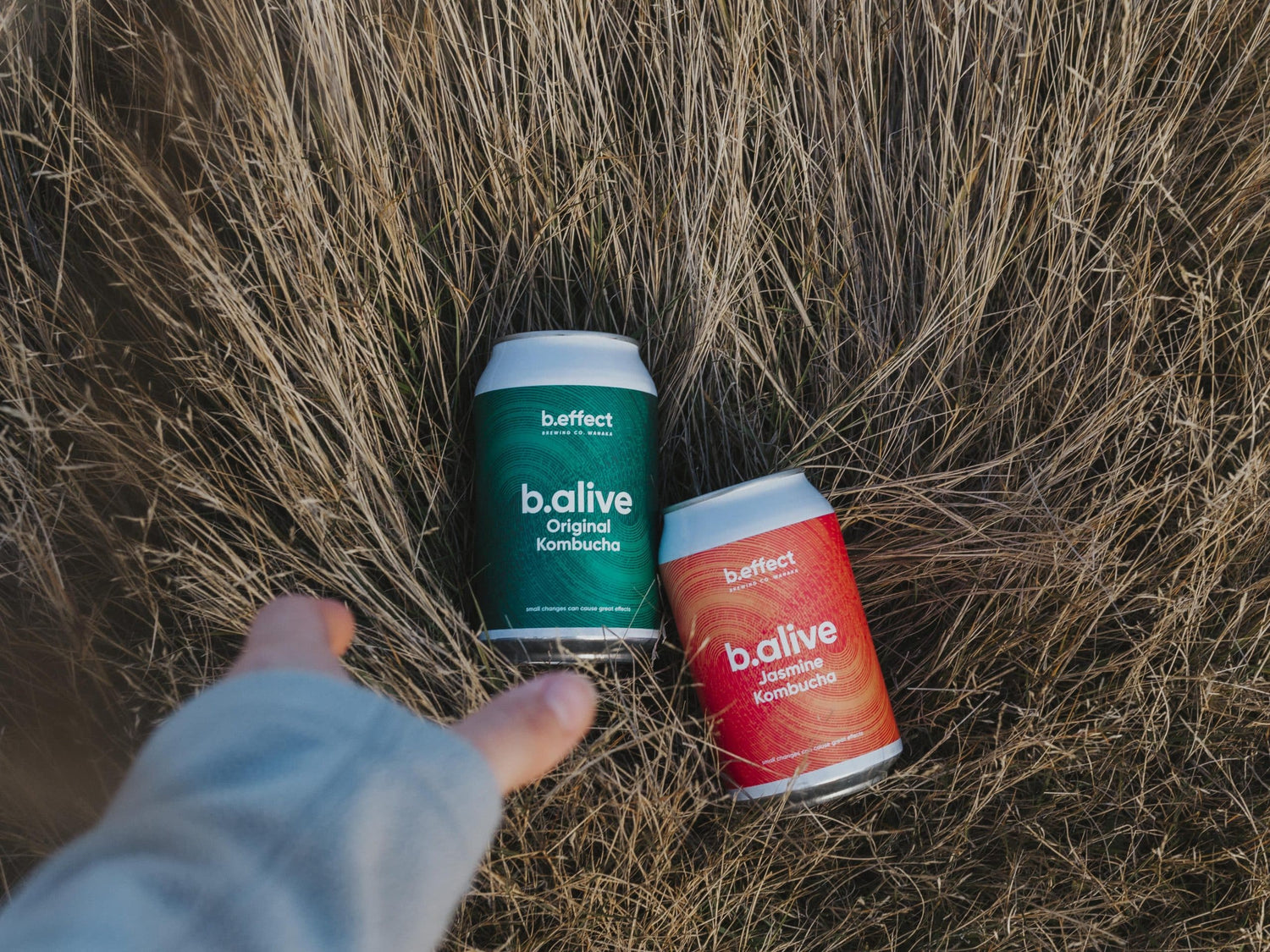 b.alive kombucha brewed by b.effect
b.alive was born out of a passion for two things: living life outdoors and brewing the perfect beverage to cap off any adventure.
brewing kombucha started out as an experiment for Molly and James during lock-down last year but has quickly become one of b.effect's most beloved products. they wanted to create a drink for when someone has scaled a mountain and wants a drop to refresh, celebrate, and take the moment in… but still needs to get back down in one piece. additionally b.effect's kombucha, b.alive, is still living when it's packaged, as well as when it's consumed, hence they advise everyone to keep it stored in the fridge… that is when it's not in your backpack making its way up the mountain. the low temperate stops it fermenting and perseveres all the healthy & tasty goodness
b.alive encourages us to to celebrate and make the most out of life's adventures… but without the hangover.
FAQ
What is kombucha?

Most notably known for its health and probiotics qualities, kombucha is an effervescent beverage crafted by fermenting sweet tea with live bacteria and yeast (SCOBY). Kombucha has a rich history that dates back to 221 B.C.
What ingredients are in b.alive kombucha?

Our Kombucha is made from only 4 ingredients. Water, Organic Black and Green Tea, Organic Golden Sugar, and Living Kombucha Culture.
What is a SCOBY?

Symbiotic

Culture

Of

Bacteria &

Yeast
Is kombucha pasteurised?

No. Our b.alive kombucha is never pasteurised. The name, b.alive, was partly derived from the living aspect of our kombucha. It's live, raw and unpasteurized. This is to preserve all of those wonderful, naturally occurring living cultures and probiotics.
How much sugar is in my b.alive kombucha?

On average the sugar content is around 3grams per 100ml. All of the sucrose is broken down into fructose and glucose during the fermentation process.
Is b.alive gluten free?

Yes, b.alive kombucha is 100% gluten free. None of our ingredients have fillers or binders so you can be assured that there is nothing hidden in your kombucha. What you see on the label is exactly what's inside.
Can I drink too much kombucha?

Drinking "too much" Kombucha will not harm you. However, we subscribe to the motto of "all things in moderation" and suggest listening to your body. Our suggestion is to cap consumption at 2 cans of kombucha per day.
Is b.alive kombucha alcoholic?

Kombucha is a fermented beverage and within the fermentation process alcohol is created. The very small amount of alcohol is not sufficient to categorise the product as alcoholic as it is 0.5% or less. To put this into perspective, fruit juices can naturally contain 0.5% alcohol and malt vinegar 0.2%
What are the health benefits from drinking b.alive kombucha?

Like all fermented foods, kombucha contains probiotics and organic acids which are both known to support a healthy gut. A healthy gut contributes to a strong immune system, heart health, brain health, improved mood, healthy sleep, and effective digestion. It's also a great alternative to alcohol.
Does b.alive kombucha need to be refrigerated?

Yes! Since b.alive kombucha is a living product, it must be kept in the fridge – that is when it's not in your backpack making it's way up a mountain. Treat b.alive kombucha like you would milk and store it in the fridge.
Is kombucha caffeinated?

A tiny amount. Since we do use organic black and green teas while crafting b.alive kombucha, there will be a small trace of caffeine, but most of the caffeine is naturally removed by the fermentation process. A 330ml serving of b.alive kombucha would be comparable to a cup of decaf coffee.
Is b.alive kombucha vegan?

Sure is! b.alive kombucha contains no animal products or by-products.
Regular price

From $24.99

Regular price

Sale price

From $24.99

Unit price

per

Regular price

From $24.99

Regular price

Sale price

From $24.99

Unit price

per

Regular price

From $24.99

Regular price

Sale price

From $24.99

Unit price

per