b.good
At b.effect, we understand that brewing great craft beverages comes at the cost of using Earth's finite natural resources and has a net negative impact on our environment. We're taking deliberate steps to reduce our carbon footprint and mitigate our negative impact on the planet we love so much. 
We believe we all need to find tangible ways to make a difference. We pride ourselves on actively finding ways to support those in our local place that do good things. We want to give back to our local communities, not just the people and organisations but the place we love so much. If we all do our bit, if we all do more with less the planet will love us for it!
We believe that the only way out of this climate emergency we as a planet face, is by local people taking action in their place. We want to find a way to give back to our local communities, not just the people and organisations but the place we love so much. If we all do our bit, if we all do more with less the planet will love us for it!
 As a result we have developed b.good.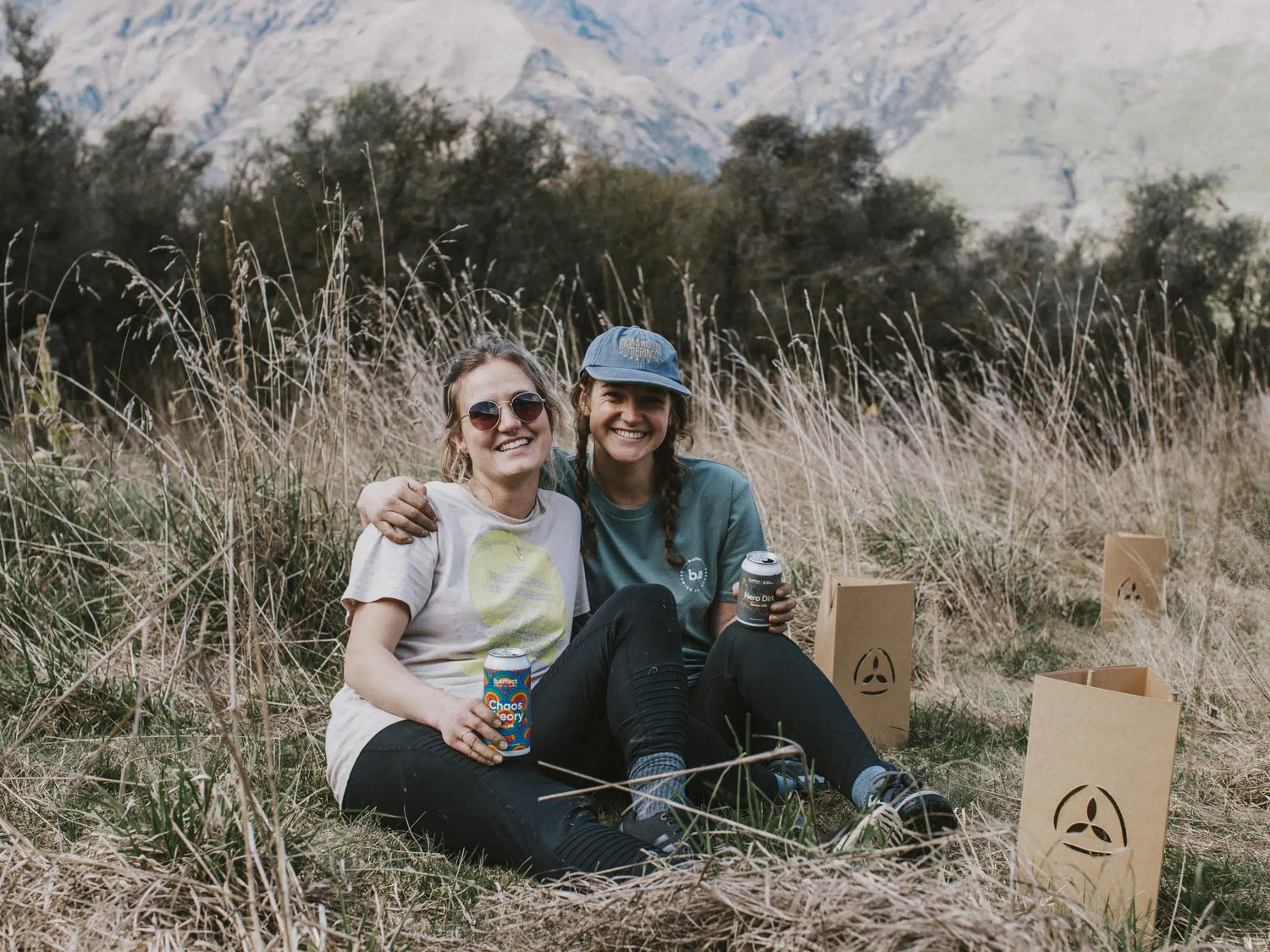 What is b.good?
b.good is a platform that ensures we as well as our loyal customers and partners can actively contribute to those in our community that are regenerating the very environment we live in. From environmental regeneration to local community events that build spirit and passion for the place that we live. We have to love our place for us to truly care about its regeneration.
Through the b.good platform, b.effect wil partner with organisations and community groups to promote their cause, raise money, donate tasty beverages and recruit helpers to ensure that the good things that are being done can continue to grow and deliver real outcomes for the environment and community we live in and love. It's a platform for the betterment of our planet.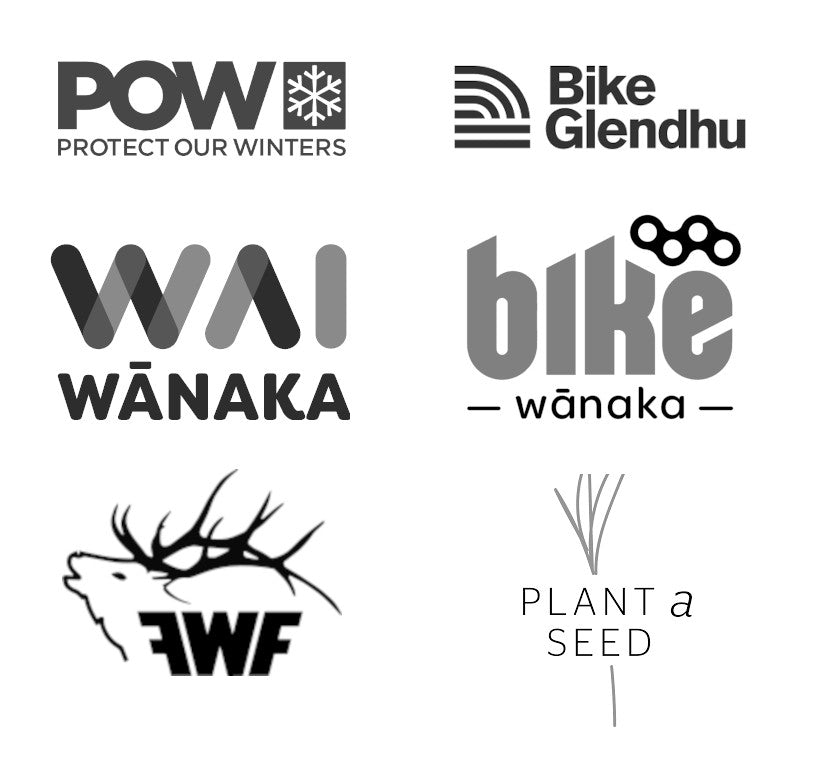 We have partnered with the following organisations:
Protect Our Winters
Fiordland Wapiti Foundation
Bike Glendhu
Wai Wanaka
Bike Wanaka
Plant a Seed - Cardrona Foundation
How does it work?
Fundraising
B.effect will match any donation through our webstore that the community makes (up to $10 per transaction) with any beverage purchase to their chosen partner. 
We will work with our wholesale partners to ensure that portions of the revenue generated from discounts offered are going to our community partners rather than our bottom line. 
We will continue to offer the processes of our community beers to the relevant partners such as POW, Hero Dirt and Bike Glendhu and The Fiordland Wapiti Foundation.
Recruiting / Promoting / Hydrating
B.good will utilise b.effect's, taproom and eatery (b.social),  social media channels and community events to help its partners in recruiting volunteers and resources to deliver their programs. 
We will as always be at every possible community event ensuring that volunteers and organiser are well hydrated and the vibes are good also!
The road ahead
We certainly know that we have a long way to go, but we hope that by enabling the community, joining the conversation and inviting open dialogue, we can make progress towards this goal, together. You'll find here a list of the activities our partners are rolling out. All you need to do is to decide which one you want to contribute to and how much you can afford to contribute. Remember we at b.effect will match all donations up to $10 with any purchase.
B.effect, through the b.good platform is committed to continual innovation and investment in efficiency. We are taking steps to green up our beer production & distribution process while minimising our impact in a resource-intensive manufacturing business.
We know that we are only scratching the surface of what is possible so we welcome any and all feedback as we head into a new chapter. In an effort to continuously reduce our impact we would love to hear from you on how we can develop more b.good initiatives. we encourage you to participate in the conversation so please reach out with any questions or comments.
What We're Currently Doing
The brewery runs completely off Renewable Energy using Meridian Energy
Our spent brewers' grain and adjuncts are sent to a local farm for cattle feed
We avoid the use of PVPP (microplastics) in fining our beer
Conduct a yearly Sustainability Audit with an outside consultant
Using 100% cans, instead of glass bottles, since cans have fewer greenhouse gas emissions over their whole life cycle
Our current water usage (water per litre of beer) is currently less than industry average.
Re-using cleaning chemicals recovered through a CIP system
Wherever possible, we engage local and New Zealand suppliers
Here's what we plan on doing
Have the brewery completely powered from solar panels by 2024
Replace single use plastic and pallet wrap with reusable rope covers
Committed to making all our beers carbon neutral by 2023
Aim to have our water usage (water per litre of beer) down to half of the industry average
Committed to becoming Carbon Negative by 2025
We Love POW
All profits from this beer will go back to Protect our Winters Aotearoa – POW connects the outdoor community to protect the places they love from the impacts of climate change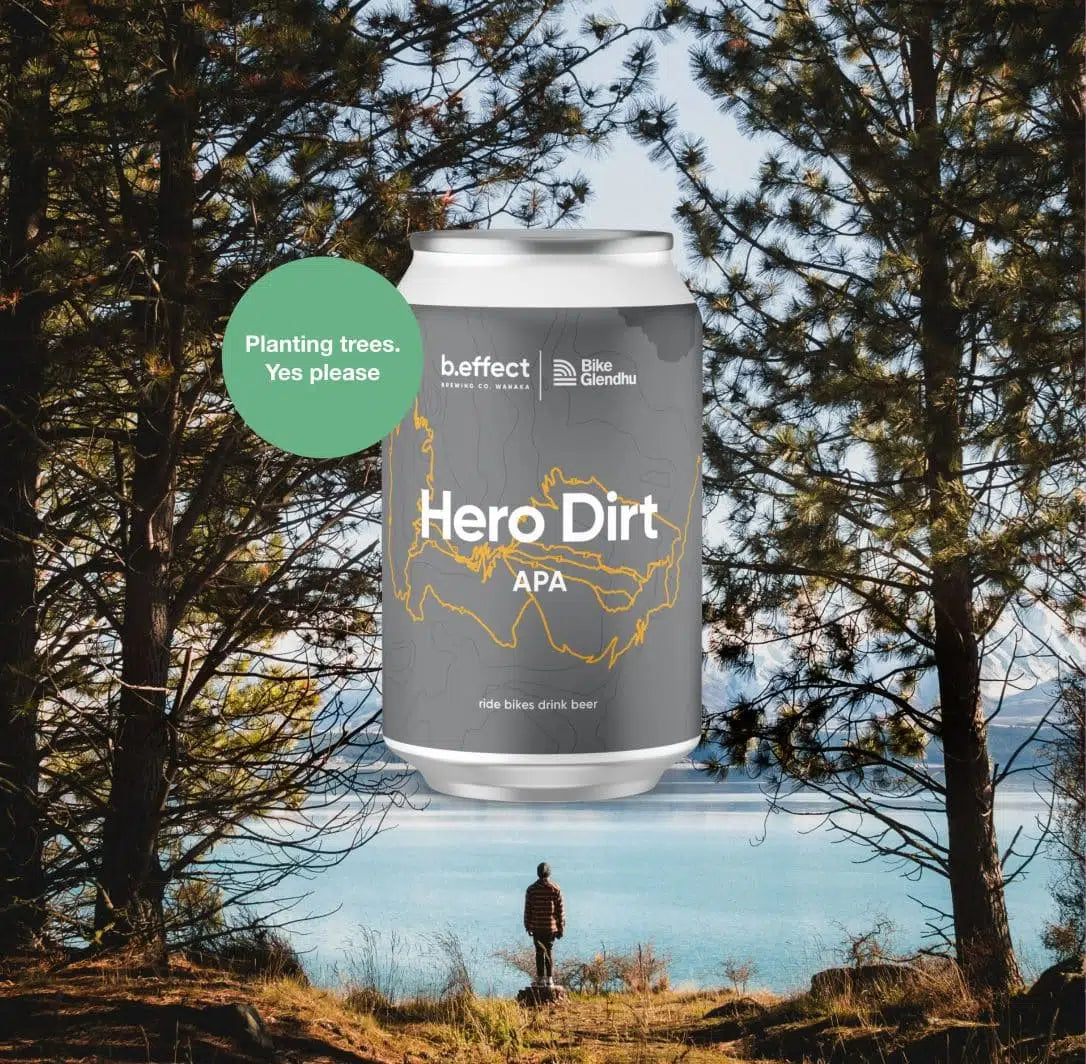 Hero Dirt
b.effect is proud to partner with Bike Glendhu to conserve, protect, and restore our environment, starting here in Glendhu Bay.
A percentage from every can and pint of Hero Dirt will be donated to planting trees to help them work towards their goal of 30,000 trees planted by 2025.